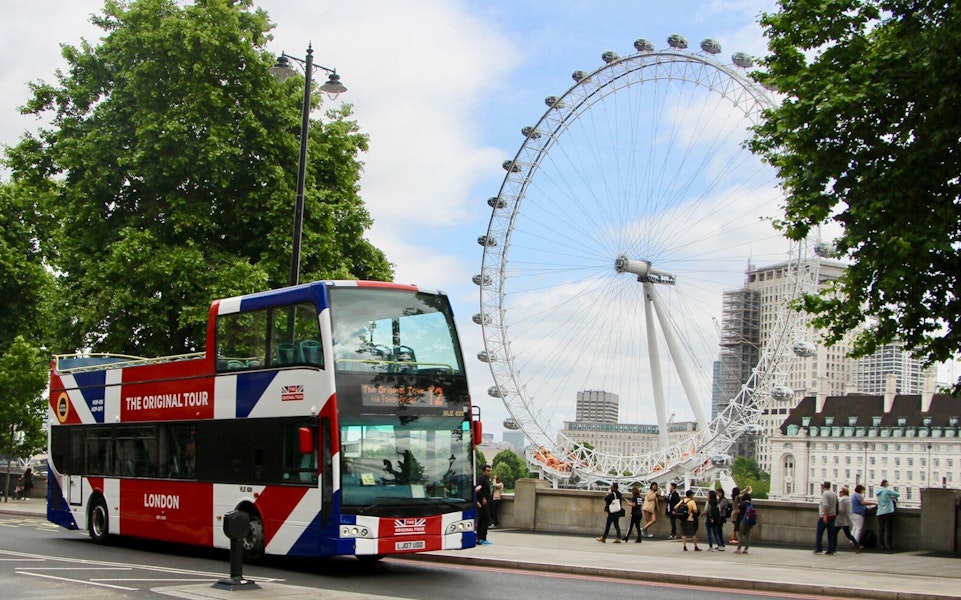 London Public Transport | The Ultimate Guide to Getting Around in London
Deeply entrenched in history and Gothic architecture, London is a tourists' paradise. The cosmopolitan yet strikingly old-school city is one of the most-visited in the world and offers everything from museums and history to decadent food and plenty of good times. From the iconic Big Ben to the majestic Tower of London, there's much to see and experience in London. To make exploring the city a breeze, you can make good use of the London public transport network. 
Since hopping on a cab every time can be quite expensive, public transport in London offers a budget-friendly and convenient alternative. The city has everything from rail, road and water transport options at your disposal. Be prepared for your London trip by learning everything there is to the city's public transport network with our London public transport guide.
London Public Transport - Your Options
Underground
The London Underground, locally referred to as the Tube, is arguably London's most popular mode of public transport. The London Underground holds the honor of being the world's first rapid transit system, with operations having begun in 1863. 
The Underground has a network of 11 lines that connect the city's suburbs to Central London, linking major railway stations, central business areas, and popular tourist attractions. The cheapest way to travel the London Underground is through a Visitor Oyster card or a Travelcard.
The London Tube services usually run from 5:00 AM to midnight. 
Taxi
If you're not a big fan of London public transport, you can opt to travel around in a taxi. While this is the most expensive option, it's time-saving and pretty convenient. The easiest way to hail a taxi is simply flagging one down whenever you see it. 
Alternatively, you can use app-based taxi services, including Uber, to book your taxi and avoid haggling for the fare.
Docklands Light Railway
The Docklands Light Railway (DLR) is a driverless line that's connected to the London Underground network. 
This innovative rail serves part of East and South East London and connects with the Tube meter at Bank and Tower Gateway stations, among others. The DLR serves Beckton, London City Airport, Stratford, Docklands, Greenwich, and Lewisham. 
You can pay for the DLR using an Oyster card or a Travelcard and the service is available from 5:30 AM to 12:30 AM on Monday-Saturday and 7:00 AM to 11:30 PM on Sunday.
Train
London's local train or Overground Rail is another convenient form of London public transport. The sprawling network connects all parts of the city and extends beyond the Tube network as well. The Overground is newer than the London Underground and follows the same zone-based rules. 
There are currently 6 routes in London and these routes also connect to the Tube, allowing for seamless travel in the city. You can pay for local trains with an Oyster card, Travelcard, and contactless payment card.
River Boats
Taking advantage of the massive Thames River running through London, the Thames River Boat is used as a public transport system. This option is great for both locals and tourists alike since you can enjoy beautiful views of London while avoiding the dreadful city traffic. 
The city's River Boat network is operated by Thames Clippers and Oyster card and Visitor Oyster cards are accepted. You can cover all of London's piers on a River Boat except Cadogan Pier and London Bridge City Pier. The boats are stocked with refreshments and you can download a free audio guide to make your journey even more insightful.
Tram
London has a charming tram service in the south, specifically from Wimbledon to Croydon and Beckenham, named London Tramlink. With four lines and 17 miles of track, the network isn't too expansive but is worth trying for the experience. 
You can pay for your tram journey through an Oyster card or contactless card when you board. The tram is completely step-free and doesn't require a ramp or any special feature to board. The best part? All tram travel is free for wheelchair users.
Bus
While the London Underground is seemingly the most used London public transport, the numbers tell a different story. For a billion annual users for the Underground, the buses attract over 2 billion passengers in a year. London's iconic double-decker buses offer a quick and convenient way to travel around the city without denting your budget. 
With a wide network that connects to all possible parts of the city, buses in London are available 24 hours and can be paid for using an Oyster card, a Travelcard or a contactless payment card.
From the Airport
London has six airports, namely Heathrow Airport, London City Airport, Gatwick Airport, Luton Airport, London Stansted, and Southend Airport. While taxis and trains to Central London are available from all six airports, bigger airports like Heathrow and London City Airport have London public transportbuses and Underground connectivity as well.
Guided Tours
A great way to get around in London while sightseeing is by opting for a guided tour. There are a lot of guided tours available at your disposal, covering different sections of the city and offering various add-on benefits. You can also opt for a London hop-on hop-off tour and discover the city is the most convenient way possible. 
A guided tour is also great because you don't have to run around looking for a bus or a train. You'll be provided with a coach that'll take you around the city while a knowledgeable guide shares interesting details about the city.
Rent a Bike
If you're looking for an offbeat form of London public transport to explore the city, you can rent a bike. Bikes are easily available for rent in the city and extremely cheap. The joy of peddling around the beautiful streets of London, and greeting locals while riding around is unparalleled. 
Watch out for Santander Cycles or Boris Bikes for bike rental in London. Both these options are available in pretty much every street in London.
Best Way to Get Around London
There's no designated best way to get around London. What's best for you might not be for another and a lot of factors are involved in the mix. 
If you'll be mostly traveling around central London, the Underground is the most convenient option for you.  With the absence of traffic and a fixed schedule, the Underground is a great way to travel if you're bound by time.
Certain parts of London are not serviced by the Underground or the Overground. To travel to these parts, you can take the bus. Buses are convenient since they cover almost all of London and run throughout the night. 
If something unique and offbeat is on your agenda, you can try the Emirates Air Line or the Thames Clippers. The former is excellent for the one specific route where it functions, and the latter makes a great way to get across London with stunning water views.
London Transport Passes
London Travelcard
Oyster Card
London Pass
Travelcards are prepaid cards that offer you unlimited access to certain public transport options in specific zones within the city.
There are many variants of the travelcard but the most popular options are the 1-day travelcard and the 7-day travelcard.
The travelcard can be used on the London Underground and buses and also offers a 33% discount on KPMG Thames Clipper rides.
A travelcard is available in both paper and card form but you'll be paying additional shipping and handling fees if you choose the paper card.
A 1-day travelcard (zones 1-6) costs £18.10, a 7-day travelcard (zones 1-2) costs £34.10 and a 7-day travelcard (zones 1-6) costs £62.30
An Oyster Card is a smart plastic card that stores money for rides on the London Underground, buses, trams, DLR, London Overground, TFL Rail and more.
There are two types of Oyster Cards, a regular Oyster Card and a Visitor Oyster Card. The latter can be mailed to you before you arrive in London.
You can add money to your Oyster Card at any Tube station, online or at any shop with an Oyster Card sign. These cards don't expire and are used prominently by London residents to pay for public transport.
The regular Oyster Card can be topped up with a 1-day or 7-day travelcard.
Visitor Oyster card offers daily capping. This means you can travel as much as you like on a single day and the amount you pay for your travel is limited.
The London Pass grants you access to over 80 exciting attractions around the city.
The pass is valid for ten consecutive days and all you have to do to enter one of 80 attractions is simply scan the mobile ticket or voucher at the gate.
Each time you scan your pass, London Pass credits will be deducted from your card. The remaining balance can be accessed on an app on your phone.
You have the option to upgrade your London Pass to London Pass + Travel. This includes an Oyster Card that allows you to transit across the city without any hassles.
FAQs
Q. Is it cheaper to use an Oyster card or a contactless card?
A. If you have a railcard discount or something similar applied to your Oyster Card, it'll be cheaper than contactless since discounts cannot be applied to contactless payment cards.
Q. What is the cheapest way to get around London?
A. The cheapest way to travel in London is with an Oyster Card. An Oyster Card allows you to travel between all parts of London on the Underground, Tram, Overground, some river boats, Emirates Air Line, and buses.
Q. Is public transport free in London?
A. No, London's public transport is not free.
Q. Can you use someone else's Oyster Card?
A. Yes, you can use someone else's Oyster Card. You can top it up with cash or credit card at the ticketing machines at any station.
Q. Is a bus cheaper than the Tube in London?
A. Yes, buses are cheaper than London Underground and the bus network is very extensive as well.
Q. Can a debit card be used to pay for London Tube tickets?
A. Yes, contactless credit and debit cards can be used on the London Tube.
Q. Can you buy London Tube tickets in advance?
A. No, you can't purchase a ticket for a single tube journey in advance.  You can purchase the ticket from one of the London Underground kiosks or ticket offices at Kings Cross.