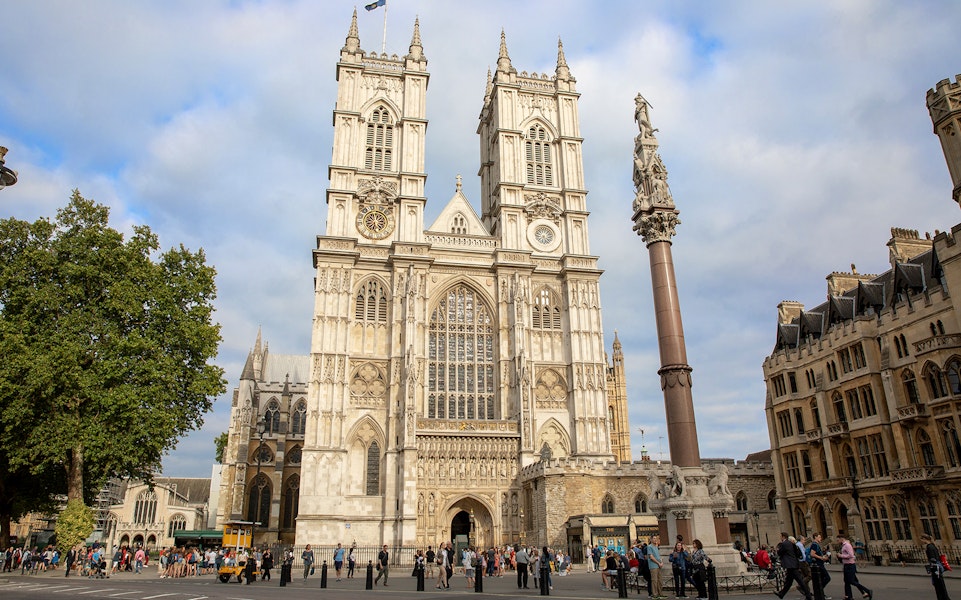 London Art & Culture | The Ultimate Guide to London
From red telephone booths to Big Ben to the iconic red double-decker bus, London has established itself as the cultural capital of the world - with endless art, global cuisine and an unmatched track record of entertainment. 
Musical legends such as David Bowie, Amy Winehouse and George Michael along with sports personalities like Andy Murray and Lewis Hamilton have all been a part of the cultural glory that built London.
Though British cuisine such as English breakfast, fish & chips, and Sunday roast is a common favorite, London cuisine has accommodated a global palette with dishes such as Tandoori Chicken, Lamb Siniya, Fattoush, Boquerones and food from almost every country in the world.
English is the first language spoken by the masses, followed by Bengali, Polish and Turkish.
All About London
History
Art and Architecture
Religions
Economy
Sports
Entertainment
Nightlife
London's Religions
An eminent part of London culture is its historic churches and how they shaped religion in the modern London lifestyle. Starting from St. Paul's cathedral to architectural masterpieces such as St. Mary Abbots Church, these structures have been adorned with towering domes, beautiful frescos, and fusions of Neo-Gothic and Neo-English work.
Structures such as the Temple Church located in the heart of the city provide space for social and community events, including the occasional show of rock and pop music.
These monuments have been built and maintained since as early as 604 AD and as late as 1872 - such Victorian themed architecture has been shaped and preserved even till today.
Economy of London
As a thriving capital of the world, London currently has a GDP of £565 billion which accounts for nearly 17% of the UK's Total GDP. Acting as home to numerous banks, London has the maximum number of foreign banks in any city. As a hub of commerce, London is also home to 2 out of every 3 Fortune 500 companies - well-known businesses such as HSBC, Barclays, Virgin, BBC have headquarters in London.
A forecast conducted by the UK Government predicted that London's number of workforce jobs will increase in 2019, 2020 and 2021, as well as the household income and spending, are to increase in the next 3 years.
London Sports
As fanatics of sports, London is home to multiple venues such as the Olympic Stadium, Lee Valley Velodrome and Wembley Stadium and showcases global events such as FINA Diving Series, ICC World Cup, UEFA Championships.
London Entertainment
Needless to say, theatre plays a massive role in shaping London traditions; with West End Musicals such as Hamilton, The Lion King and The Phantom of the Opera - the tickets for which are available for as cheap as £15.
Theatres such as Leicester Square Theatre, Eventim Apollo also showcase stand-up comedy weekly.
Top 5 Festivals in London
FAQs
Q. Is it safe to travel to London now?
A. The UK is currently under quarantine due to which there are travel restrictions. This also means that public spaces will be closed until the quarantine is lifted. 
Q. When will things go back to normal in London?
A. London is currently under quarantine to control the spread of Coronavirus. The UK government is yet to announce when it is likely to end.
Q. What's the best way to get around London? 
A. You can buy an Oyster card and use the tube around the city. You can also travel by bus. Both of these are affordable and convenient ways of getting around London.
Q. How much is an Oyster card?
A. It costs £5 after which you can top it up as and when you like. 
Q. What can I do in London?
A. There is plenty to do in London. You can visit some of its historic landmarks, watch a play, eat from its endless list of eateries, and so much more.
Q. When is the best time to visit popular tourist attractions in London?
A. We recommend going to popular attractions early in the morning to avoid huge crowds. 
Q. How much does it cost to watch a play in London?
A. Theatre tickets vary. Shows like Hamilton and The Lion King cost £39.75 and £45, while The Book of Mormon starts at £24.
Q. How much money will I need for a day in London? 
A. You will need between £100 - £150 per day per person including food and visiting popular attractions. 
Q. How much does a meal cost in London?
A. You will need between £6 - £11 for a budget lunch and between £9 - £16 for a budget dinner.
Q. How much does it cost to see the popular attractions in London? 
A. You can buy a London city pass and gain one-time access to around 80 attractions in the city. The pass costs £90. Check our website to buy the London pass or individual tickets to popular tourist attractions.